OEC Associates
The OEC Associate Team represents a talented, qualified and experienced group of professionals.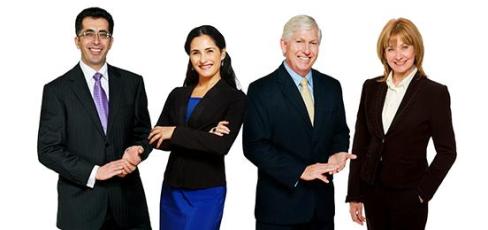 Names in order to appear underneath L to Right: Albert Haddad, Josephine Palermo, Peter Webb and Paula Robinson. All have a strong background in consulting, organisational development and coaching. They also bring a range of qualifications in evidence-based disciplines such as psychology, education, leadership, organisation dynamics and change theory. Each OEC Associate has established a clear professional identity and specialisastions through years of successful practice. For further information: Contact the OEC Office.
Peter Webb

Peter Webb is a Leadership Coach Psychologist specialising in wisdom-related performance in leadership effectiveness in the Asia-Pacific region. He is the Principal of Sydney-based consultancy ITC, an Associate Program Director at the Melbourne Business School - Mt Eliza Executive Education Centre, and an invited lecturer in coaching in organizations at the University of Sydney - Coaching Psychology Unit. He holds an Honors Degree in Economics (Organisational Psychology) from the University of Queensland, a Bachelors Degree in Naturopathy (N.D.) from the Australian College of Natural Medicine, and a Masters Degree in Applied Science (Psychology of Coaching) from the University of Sydney and Certificate IV Training & Assessment. Peter is a Registered Psychologist with the Psychology Board of Australia.

Peter conducts a broad range of programs for business leaders from organisation development consultancy, through to performance management skills, emotional and political intelligence at work, strategic team development, and one-on-one leadership development coaching. Peter draws on positive psychology, neurobiology, complexity theory, and the psychology of wisdom to help managers make difficult and career-critical choices for themselves, the organisations they lead, and for the "common good".

Since 2007 Peter has provided outstanding senior executive coaching as part of the OEC Team at the top of Charles Sturt University - including MLQ360 degree feedback, plan development and supportive individual developmental coaching - including induction coaching for incoming executives to new positions of responsibility.





Paula Robinson

Paula has 12 years experience at senior management level. Responsibilities as General Manager and Company Director have included strategic planning and implementation, administration, staff recruitment/retention, advertising, marketing, and sales. Paula is a Registered Psychologist with the Psychology Board of Australia.

In 1993 Paula decided to meet the challenge of a career change by continuing her academic pursuits and applying her practical business knowledge and experience within the profession of psychology. The primary focus of her work is self-awareness and self-management to improve organisational efficiency and effectiveness. She is a leading practitioner of positive psychology and specialises in work-life coaching. Since 2007 Paula has provided outstanding senior executive coaching as part of the OEC Team at the top of Charles Sturt University including MLQ360 degree feedback, plan development and supportive developmental coaching - including induction coaching for incoming executives to new positions of responsibility.

Paula is a committed Science-Practitioner and is completing her PhD research in the development of a measure of MENTAL FITNESS to assist in the evaluation and development of optimal mental functioning. Paula is a senior partner in the The Psych Company Pty. Ltd. and is also co-founder of the Positive Psychology Institute. She has a regular column in Prevention Magazine.





Dr Josephine Palermo

In the last decade Josephine has been involved in extensive organisational research and practice in complex organisations. Recent consultancies and research have involved organisational enhancement, executive development, leadership coaching and whole systems change interventions for higher education and health sectors in Australia, the government of the Sultanate of Oman, and through OEC, Toyota Australia.

Prior to joining Deakin she held senior positions at two Australian universities with responsibilities for developing and implementing quality management systems across all aspects of organisational functions. These roles also involved extensive: whole scale project coordination; facilitation of large group events and workshops; program evaluation (including action research); development of strategy, policies and procedures; and the development and implementation of performance indicator systems. Recent research projects have included investigations into the impact of gendered culture, values and ageing on organisations and people; the influence that values hierarchies have on ethical decision making for early career lawyers; and evaluations of health planning frameworks for the Victorian government.





Dr Albert Haddad

Albert Haddad has held a number of management positions in public and private industries. He has extensive experience in Research Science and Human Resource Development and holds a Doctorate in Education in Leadership and Organisational Change from the University of Melbourne.

In his doctoral thesis, Albert studied a management cohort's reaction to change as they faced uncertainties and three restructures over a span of two years. He was able to devise a change framework and a model of leadership in change that is useful for organisations undergoing change. Dr Haddad has published many scientific papers and presented in both Scientific and Leadership arena both locally and internationally.

Albert is the director of Leadwise Consulting and has serviced many organisations in Australia including many water utility companies, Yooralla, the University of Ballarat and a number of local government councils. He is an experienced, dynamic and accomplished leadership development consultant, executive coach, workshop facilitator and change management consultant. He has successfully coached a number of executives in public and private organisations specialising in the application of behavioural change. He uses tools and approaches, uniquely selected, to help senior and middle managers realise and achieve their full potential and improve departmental and organisational performance.





Ray Elliott, MAPS, FAHRI, AIMM. br>Organisational Psychologist, Coach & Mentor. br>Hon. Fellow, Faculty of Health – Deakin University.

br>

Ray has provided a broad range of consulting, organisational development and psychological services to a wide variety of organisations in diverse industry sectors including retail, defence, tertiary and secondary education, manufacturing, IT, not for profits, and community groups. In his career he has specialised in leadership assessment and development at the interface between workplace and work-private domains. He also assists individuals.

Ray provides supervision and mentoring for psychologists, students and organisational psychologist / HR professionals. He has worked with chairpersons, directors, CEOs, department heads, SES personnel, middle management, and with directors and managers of medium, national and international companies and entities. He has worked covertly at senior leadership development, either engaged by the firm or by the individual client as may be ethically proper.

Qualifications:

br>

Ray holds post-graduate qualifications in organisational psychology, organisational change, education, ethics, and ritual from several universities in Melbourne and from Yale (USA). B.Sc., Dip.Ed., Grad.Dip.Arts, M.Ed. (Mon.), B.D.(MCD), Grad.Dip.AppliedPsych (VU), STM(Yale).